Stars supports Indigenous girls and young women at Cecil Andrews College to attend school, complete Year 12 and move into employment or further study.
The program is based on strong, trusting relationships. The Stars Room is a warm, culturally safe environment – a place where First Nations girls and young women feel understood, nurtured and inspired.
Our full-time Mentors provide a diverse range of activities to support students to develop the self-esteem, confidence and life skills they need to successfully participate in school and transition into a positive and independent future.
Outcomes across our programs have been consistently outstanding, with more than 90 per cent of our students completing Year 12 each year, and more than 85 per cent transitioning successfully into work or further study.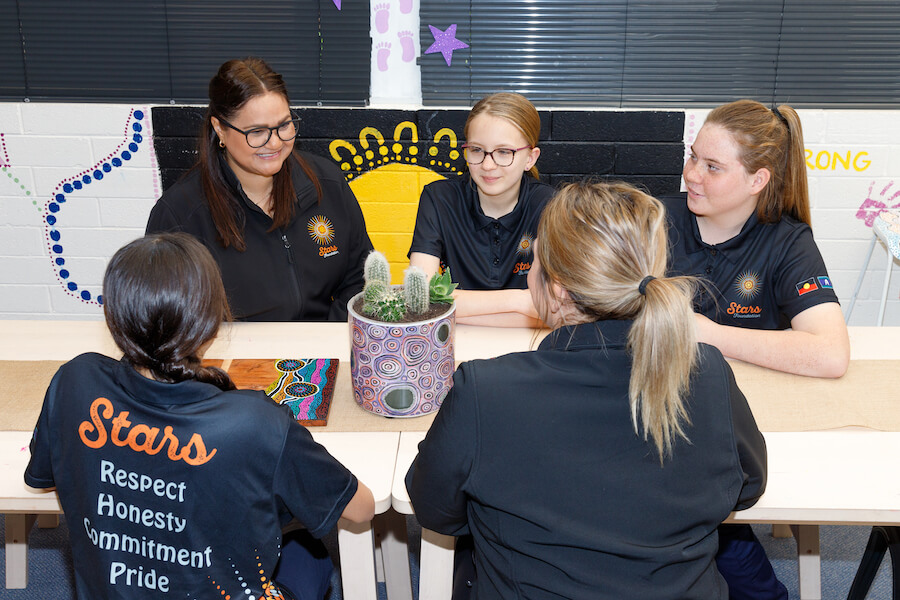 How does the program work?
Stars operates on a full-time basis within Cecil Andrews College, providing a culturally safe, nurturing environment in a dedicated 'Stars Room'.
Our Mentors are based full-time at the school, which means that First Nations girls and young women can access the intensive support they need, when and where they need it.
Stars offers personal development activities and experiences in many different areas, including sport, exercise, music, drama, art, cooking and nutrition.
Students also take part in community, cultural and volunteering activities to build their life-skills and confidence and further develop their links to culture and community.
Stars has a strong focus on successful transitions from school into full-time work or further study. Our students are supported to explore a wide range of work and study opportunities.
At the completion of Year 12, our Transitions team provides intensive support to our young women so that they can move successfully into employment, training or tertiary study.